The greatest Death Race driver of all time battles for his freedom through South Africa's infernal desert when DEATH RACE 3: INFERNOcomes to Blu-ray™ Combo Pack, DVD and On Demand on January 22, 2013, from Universal Studios Home Entertainment. The newestUniversal Studios Home Entertainment DVD Original™ finds the legendary Frankenstein in an unimaginably vicious new competition that pits teams of hardened convicts against each other in a blood-spattered, winner-take-all race through South Africa. This explosive, unrated addition to the high-octane franchise revs up the adrenaline with more extreme action, outrageous new vehicles, brutal stunts and an all-star cast. Also available on Digital Download.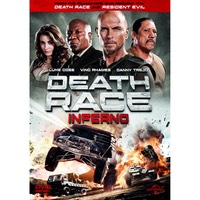 Inspired by Roger Corman's cult classic Death Race 2000, the film is directed by Roel Reine (Death Race 2, Scorpion King 3) and produced by Paul W.S. Anderson and Jeremy Bolt, as well as Mike Elliott (Death Race 2, The Eye).  The film stars Luke Goss (Death Race 2, Hellboy 2: The Golden Army, Blade 2), Danny Trejo (Death Race 2, Machete, "Sons of Anarchy"), Ving Rhames (Death Race 2, Mission: Impossible franchise, Pulp Fiction),  Dougray Scott (Mission: Impossible II, "Heist"), Tanit Phoenix (Death Race 2, "Femme Fatales"), Fred Koehler (Death Race 1 & 2, "Lost") and Robin Shou (Death Race 1 & 2, Mortal Kombat).
The Blu-ray™ Combo Pack allows consumers to watch Death Race 3: Inferno anytime, anywhere on the platform of their choice. It includes a Blu-ray™ disc, a DVD, a Digital Copy and UltraViolet™ for the ultimate, complete viewing experience.
Blu-ray™ disc unleashes the power of your HDTV and is the best way to watch movies at home, featuring perfect hi-def picture and perfect hi-def sound.
DVD offers the flexibility and convenience of playing the movie in more places, both at home and while away.
Digital Copy provides consumers with a choice of formats from a variety of partners, including options to watch on iPhone®, iPad®, Android™, computers and more.
UltraViolet™ is a revolutionary new way for consumers to collect their movies and TV shows in the cloud. UltraViolet™ lets consumers instantly stream and download to tablets, smartphones, computers and TVs. Now available in both the United States and Canada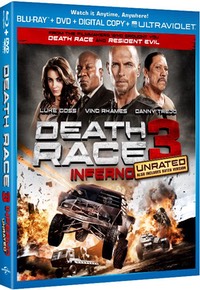 Bonus Features Exclusive to the Blu-ray™
Alternate Opening
Racing For Death: Take a look under the hood and behind the wheel of the mechanical stars of Death Race 3: Inferno. From the engine designs to the safety measures put in place to protect the drivers, this featurette will give petrol heads a real look at the cars of Death Race Inferno.
Art Imitating Life: Goldberg: Gain perspective of the cast and crew on the character Goldberg and the actor who plays him, Danny Trejo. Real life experience helped Danny Trejo relate to this story. As a child he got in with the wrong crowd and served 12 years at various California prisons including, San Quentin. The ex-con considers himself to be lucky to have gotten a second chance at life.  That second chance came through show business.
Blu-ray™ and DVD Bonus Features
Deleted Scenes
Deleted Shots Montage
The Making of Death Race 3: Inferno: It's an all-new Death Race! Inspired by its popular predecessors, this featurette will show how the filmmakers, production crew and actors created this new version of the popular Death Race franchise. 
Feature Commentary With Director Roel Reine
SYNOPSIS
Repentant convict Carl Lucas (Luke Goss) — aka Frankenstein— is a legendary driver in the brutal prison blood sport known as Death Race.  Only one victory away from winning freedom, Lucas is plunged into his most vicious competition yet: the first ever Desert Death Race. Through South Africa's infernal Kalahari Desert, Lucas is pitted against ruthless adversaries and powerful forces at work behind the scenes to ensure his defeat.  Also, starring Danny Trejo and Ving Rhames,Death Race 3: Inferno is an insane, action packed thrill-ride.