DEATH RACE 2 - REVIEWS
"Death Race 2 Director Roel Reine Raises the Straight-to-DVD Bar" –Tony Trupiano, Movieretriever

"Death Race 2 beats its original hands down because Roel Reiné is a better director than Paul W.S. Anderson, who stickhandled the 2008 Jason Statham original." --ANDREW DOWLER, Now Magazine

"By far the finest Death Race yet and one of the best prequels HANDS DOWN" -J.A. OTTLEY, Movieweb

"…it is director [Roel] Reine's impressive ability to make his assuredly smaller budgeted production look and sound as vulgar as the first film that will draw people in…" –Peter Hall, The Moviefone Blog

"The most impressive aspects to director Roel Reine's film are the stunt work and crisp cinematography, giving fans of the first film another round of brutal races and beatings, only this time the picture appears to embrace its feral nature with a little more spunk." -Brian Orndorf, DVD Talk

"The "A" list cast, a visionary director and the right balance of story and action held my attention and were suspenseful enough to keep your blood pumping." –Tony Trupiano, Movieretriever.com

"Reiné has an eye for unusual shots and a fondness for slow motion and 360-degree pans. He uses them to build impact into thrill scenes and emotional moments." --ANDREW DOWLER, Now Magazine

"'Death Race 2' is precisely what you want it to be: over-the-top action, violence and vehicular mayhem." –Peter Hall, The Moviefone Blog

"…throw away your preconceived notions about movies that go straight to DVD because this is one that was worthy of theatrical release…….. Director Reine clearly has a passion for the arts and his insistence on being a player in the movie may not be evident to the audience but it is to not only the look of the film, but the cast as well………. Death Race 2 shines brighter than I ever though it could and I for one won't be surprised any longer if we start seeing more "A" list actors making straight-to-DVD movies." –Tony Trupiano, Movieretriever

 "Definately worth a rent or even a buy, and kiss that 2008 remake goodbye :)" -J.A. OTTLEY, Movieweb



DVD Review: Death Race 2
Posted by Turk182 in DVD Reviews
Roel Reine's Death Race 2 is the straight-to-DVD prequel of the 2008 movie Death Race. But if you're thinking a straight to home movie can't do the original justice, think again. From the opening scene to the last second of footage, Director Reine made sure to stay true to two obvious ideas: people loved the first film so he had better capture that feeling and that story matters, as Death Race 2 has both amazing action and a pleasantly unexpected story line that you actually care about.
Set in the near future, prison systems are now run by for-profit corporations and as such one of the prisons becomes center stage for the television show Death Match which pits two prisoners against each other in a duel to the death event that is on live television. The producer of Death Match, September Jones (Lauren Cohan), a too sexy and very horny, aggressive women is starting to lose the coveted audience the network boss Weyland (Ving Rhames) must have to be profitable and therefore threatens her job if she can't get the ratings up. Her response is to create Death Race for national audiences.
The movie begins with what proves to be a pivotal couple of scenes that introduce us to two of the key players in the film: Carl Lucas (Luke Goss), a professional hit man, bank robber and bad man, and his "mafia" boss Markus Kane (Sean Bean). After a botched bank robbery, which is filled with exquisite special effects and enough action to satisfy any audience, there is a moment in that madness that is captured in perfect slow motion that is very telling about Carl Lucas and as the action around him is chaotic; his response is worth the price you pay for this film alone.
After being caught in an immaculately staged police chase, Lucas is thrown into the jail that is the home of Death Match and as an added surprise he quickly discovers that his former boss, Markus Kane, has put out a hit on him for $1 million as insurance that he will never talk to the authorities.
The story in Death Race 2 actually matters and as a prequel it should. Prequel's are supposed to answer questions, and Death Race 2 doesn't disappoint, but what is does better than Death Race is give us characters we care about and for this reviewer it made the intensity of the action that much richer. Death Race 2 moves quickly but not so fast or makes a jump too quickly that we get lost in the story or the action and the transition from Death Match to Death Race surprisingly made complete sense. The promise of the winner of Death Race is known from the original, but the thought of gaining freedom after winning three races using weapons of mass destruction has its appeal to the action/adventure genre, and this one serves it up with the best of them.
You'd hardly know the budget for this film was only one-tenth of the original and great care was taken to respect the integrity of the first movie. Characters Lists (Fred Kohler) and 14K (Robin Shou) tug us back just far enough to the original move where we still get the flavor of Death Race with the added thrills of its origin story. Critical to the success of Death Race 2 was the studio's ability to find the cars from Death Race, having to only reproduce the Dodge Ram while the others were kept pristine by collectors who allowed them to be used in this film.
The "A" list cast, a visionary director and the right balance of story and action held my attention and were suspenseful enough to keep your blood pumping. With the exception of Lauren Cohan's performance, the cast met the demands of the script and the acting of Danny Trejo, Luke Goss, and Fred Kohler are worthy performances and should be noted as such. Not wanting to give away too much, the birth of the character Frankenstein is both gruesome and beautifully captured by director Reine.
So throw away your preconceived notions about movies that go straight to DVD because this is one that was worthy of theatrical release. In the best tradition of Mad Max, Death Race 2 shines brighter than I ever though it could and I for one won't be surprised any longer if we start seeing more "A" list actors making straight-to-DVD movies.
Rating: THREE AND A HALF BONES
Reviewed by Tony Trupiano
Release Date: January 18th, 2011, Straight to DVD
Rating: Unrated
Starring: Luke Goss, Fred Koehler, Tanit Phoenix, Robin Shou, Lauren Cohan, Patrick Lyster, Deobia Oparei, Hennie Bosman, Joe Vaz, Danny Keogh, Sean Higgs, Warrick Grier, Danny Trejo, Ving Rhames, and Sean Bean
Director: Roel Reine
Writers: Paul W.S. Anderson and Toby Giglio
January 21, 2011
Death Race 2 Director Roel Reine Raises the Straight-to-DVD Bar
Posted by Turk182 in Interviews
Director Roel Reine is not a household name, as very few movie directors are, but that doesn't mean his name is not in your home. Reine has mastered the art, and it is an art, of making movies that are produced to go directly to DVD for distribution.
Reine's film credits include The Marine 2, The Lost Tribe, and the recently released Death Race 2, and what is remarkable about this latest project, Death Race 2, a prequel to the 2008 film Death Race, is that he assembled an incredible cast of "A" list actors including Ving Rhames (Pulp Fiction, Con Air), Danny Trejo (Grindhouse, From Dusk to Dawn), and Sean Bean (Golden Eye). What I find remarkable about that is most would think that a movie that will never see a theatrical release would not be of interest to an "A" list actor but as technology advances it is clear that the stigma of straight-to-DVD movies may just have transcended any negativity they may have had.
Movie budgets that run into the many millions of dollars are not part of the conversation when it comes to the DVD market and the constraints of making a high energy, action packed, special effects laden film might scare many directors away, but for Roel Reine it was actually one of the things that attracted him to this project. Reine shared that, "I saw the challenge of making a move with one tenth of the budget of the original but I also have relationships with industry professionals that are still hungry, very creative people that enjoy making magic happen even while understanding how little money we have to work with."
Money aside, I asked Reine what attracted him to this project, understanding that the ultimate comparisons would be made to the original Death Race, which has become sort of a cult classic. In fairness, Death Race 2 is actually a prequel to Death Race making it somewhat easier as far as audience expectations go but Reine also held the philosophy that in order to respect the original material he had to be sure his cast and his vision were pristine. Furthermore, it was the script that untimely made the decision to direct Death Race 2 an easy one.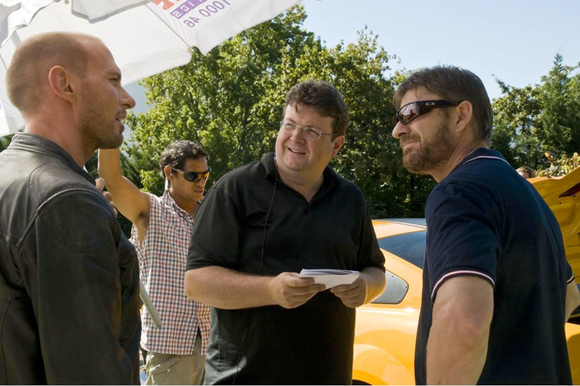 "Death Race 2 tells a larger, more important story than the original film and the drama and character development was critical to ensure the audience connected with the cast. I created and fought for some of the scenes that made the film deeper because the true story that is told is as important this time as the action, which I am quite proud of" said Reine. So, you ask, why is the story so important? According to Reine, "Death Race 2 answers many of the questions that Death Race presented and investing in the story line and making sure we delivered those answers mattered to me. The emotional aspect of these characters and that you feel you know them and how they are feeling helps make the story richer. It connects you to the film."
Beyond the cast there is a component of this film that was mandatory: the cars. Reine was successfully able to find all but one of the vehicles and was able to buy them back from the collectors who had purchased them, with the exception of the Dodge Ram which they had to rebuild, and make no mistake; the cars are still a major player in Death Race 2.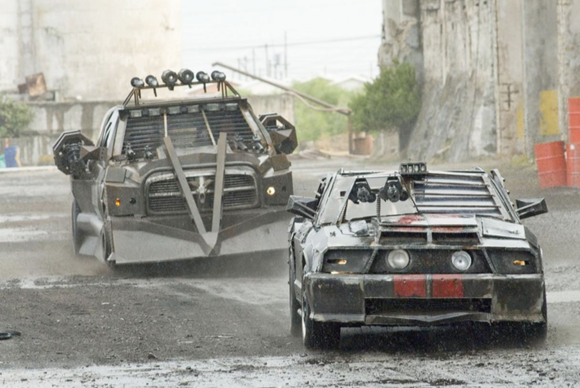 Death Race 2 (see review) may surprise some with its story development and the astounding amount of work that was accomplished for so little money. Director Reine clearly has a passion for the arts and his insistence on being a player in the movie may not be evident to the audience but it is to not only the look of the film, but the cast as well.
Reine also serves as a cameraman on all his films as he also serves as the Director of Photography, not a simple task. Reine also prides himself on working quickly and with organized purpose, which the cast appreciated as well. In fact Reine shared that Sean Bean commented how amazing it was to work with a director who knew his vision and was able to relay it to the cast and shoot it as profoundly as he did. A compliment indeed.
Reine is now in post production on a remake of The Scorpion King and has a few other projects in the hopper, but let me say that Roel Reine takes his work very seriously, and if Death Race 2 is any indication of what we can start to expect from straight-to-DVD movies, we are in for a real treat.
The Blu-ray edition of this Universal Studies movie also includes a digital copy that can be transferred to any mobile device you may own and the way this film was shot, acted, edited and directed you are in for quite a visual ride.
By Tony Trupiano
DVD REVIEW - NOW MOVIES 'TORONTO'
Death Race 2
BY ANDREW DOWLER
The rule of thumb is that low-budget, direct-to-video sequels are crap. Not this time. Death Race 2 beats its original hands down because Roel Reiné is a better direc tor than Paul W.S. Anderson, who stickhandled the 2008 Jason Statham original.
Reiné has an eye for unusual shots and a fondness for slow motion and 360-degree pans. He uses them to build impact into thrill scenes and emotional moments.
The story is a prequel. The wheelman (Luke Goss) in a bank job gone wrong gets life on Terminal Island, where a vicious TV exec (Lauren Cohan) is winning big ratings by forcing the cons into death fights for the cameras. When the numbers sink, she amps up the action, and Death Race is born. It doesn't make much sense, but it's fun.
Robin Shou and Frederick Koehler are back from the previous effort, joined by Sean Bean, Ving Rhames and the always wonderful but here underused Danny Trejo. Double-bill this with his trash masterpiece, Machete.
Reiné provides an enthusiastic commentary filled with how-to tips on low-budget filmmaking.
EXTRAS Director commentary, development doc, stunt doc, cars doc. Widescreen. English, French, Spanish audio and subtitles.
http://www.nowtoronto.com/movies/dvdreviews.cfm?content=178755
DEATH RACE 2 : Review By J_A_OTTLEY
Jan 1st, 2011 by J_A_OTTLEY
"By far the finest Death Race yet and one of the best prequels HANDS DOWN"
Ok, first all people ITS 2011, HAPPY NEW YEAR and I got some EXCLUSIVES reviews to dazzle your eyes, but alas before I finished my Millenium Trilogy reviews, I'd thought I'd treat you gorgeous, handsome MOVIE-WEBBERS to a over dosage of SEAN BEAN with the following review and BLACK DEATH.
ENJOY!!!! :)
Right, so where do we start with this, well if you watched the 2 previous installments to this cult hit, well the original is a cult hit, the 2008 remake, not so much, but your in for a treat as this direct to DVD delivers what is the finest and best DEATH RACE so far.
The film begins with Carl Lucas (Luke Goss) whose a getaway driver for big shot and menacing crime lord, Markus Kane (Sean Bean). Carl is stands as Markus best driver and is called in for a bank heist, which goes terribly wrong and ends with quite a phenomenal car chase and the imprisonment of Carl to Terminal Island as he chooses loyalty to Kane over any form of deal the D.A is willing to offer. Kane who stands worried that despite he loves Carl like a brother, feels that he won't stand loyal for too long and a hit is order while Carl stands in the prison that streams DEATH MATCH LIVE. In which the actions that Carl does, creates a pretty damn amazing origin story for the most memorable character of the series.
The acting is top form for a direct to DVD flick and it delivers complete flames to its predecessors visions, which is shocking because these kind of films don't perform that, but I guess there is a rare case of it. 
Luke Goss delivers his best performance on par, with his roles in Hellboy 2 & Blade 2. He truly creates a memorable origin story and becomes a character that burst out of the screen, his logical and loyal, despite the odds he faces. 
Sean Bean is menacing and brutalic as Markus Kane and his screen presence and performance is as memorable as Alec Trevelyn. His character has flair with a cold-heart, he'll show no mercy about blasting a bullet in any ones head that fails him or gets in his way. He'll also go to extreme lengths to ensure his own safety. I actually want to see him in a gangster role after this flick.
While there are other notable actors within the film like Danny Trejo, Ving Rhames, Robin Shou (who I actually never recognised in the 2008 remake) and Taint Pheonix & Lauren Cohan. In which all of the following deliver actual good performances. They make their character their own and take control and dominate their roles, despite this is just another action flick.
The visuals of this film and the action are the same old same old as any action film, and if you know about DEATH RACE, then you know what to expect. FIGHTS, BLOOD, RACES, GUNS, ACTION, EXPLOSION & GIRLS. Its quite frankly an over dosage orgy of the capitalised combination. Also the thrills of this film never stop. The battles and races are an adrenaline rush c*cktail for a near-brilliant origin story, I say near-brilliant because the only brilliant origin story I can think of is Batman Begins.
Whoever did the music to this flick did a bang-up job of making more adrenaline rush through the action sequences with a combination of hardcore Hip-Hop to Rock, to tracks that build up the sequences to intense levels of entertainment. The races are accompanied by the likes of DMX and others, I only could recognised DMX, by his voice and i'm a fan of his music.
What comes 1st place?
I'm quite a fan of the original, despite it wasn't sheer brilliance, and yeah i still got it on good ole VHS. But what blew my mind with this flick is how they've created a really good origin story for Death Race. This flick shows how Death Race is born via prison fights which are intense as they come, its surrender or die. It then visually portrays how the concept of Death Race is created and Death Match evolves to Death Race, which becomes the highest showing show in the world. Its much better than the 2008 version and for once Paul W.S Anderson final got something right after destroying multiple franchise and sending them to extinction. Ok that may sound a bit cruel since he did a fine job producing RE:Afterlife and Pandorum, but this is quite epic for a straight to DVD flick and its a rarity, and this should have been in theaters. The acting, visuals and story of this film is top form, the director, Roel Reine, does a good job of directing this flick.
Final words 
Death Race 2 is the definitive reimagining of Death Race, its like how everyone would have preferred a prequel to A Nightmare On Elm Street, which unfortunately that didn't deliver. But Death Race 2 burns the tracks and takes the film to a new level with a grand origin story for its concept, it has a menacing cast with great chemistry between the protagonist and love interest. The story just builds and builds to something near-epic and by the time the film hits it resolution and climax and everyone gets their just desserts. The final frame of this film will leave any fan, with a big fat dirty grin of awesomeness, after being intoxicated with a barrage of explosions and a barrage of heavy artillery.
Definately worth a rent or even a buy, and kiss that 2008 remake goodbye :)
This EXCLUSIVE & FIRST review was brought to you by Jay.A.Ottley
review: MOVIEFONE
'Death Race 2' Review: Exactly What Fans of the First Film Need
By Peter Hall (Subscribe to Peter Hall's posts)
Posted Jan 18th 2011 7:30PM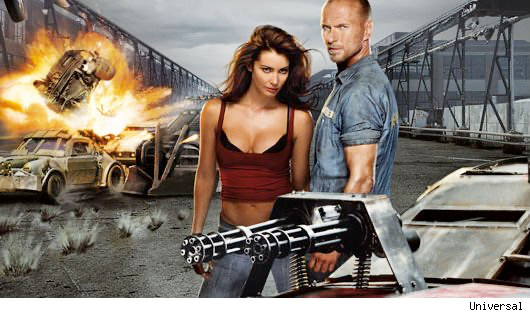 If you were pleasantly surprised by the over-the-top action, violence and vehicular mayhem in 'Death Race,' Paul W.S. Anderson's remake of Roger Corman's classic 'Death Race 2000,' then you will be happy to hear that 'Death Race 2' is precisely what you want it to be: over-the-top action, violence and vehicular mayhem. If you weren't a fan of Anderson's film, however, you can safely move along as there's realistically no chance that you'll find more to be entertained by in this Roel Reine-directed follow-up.
Unless, of course, the only reason you were turned off by its progenitor is because you, for whatever reason, hate Jason Statham. If that's the case, you may want to consider this straight-to-video sequel since it's got a new lead in the form of Luke Goss. And don't let that label deter you one iota, either: 'Death Race 2,' despite its World Premiere on DVD and Blu-ray, not only looks and sounds leagues better than most of its STV brethren, but it even has better production values than some recent theatrical action extravaganzas (that means you, 'Expendables').
You also shouldn't let the number in the title mislead you; 'Death Race 2' is actually a prequel that shows the creation of the titular televised spectacle that pits prisoner against prisoner in a deadly (and awesomely absurd) car race. 
And while it is director Rene Reine's impressive ability to make his assuredly smaller budgeted production look and sound as vulgar as the first film that will draw people in, it's Tony Giglio's script that makes this more than a simple cash-in on a recognizable title. It does still suffer some of the problems that all prisoner competition movies suffer, but for every familiar malady - the inevitable rigging of the races, the sexy female producer that'll do anything for ratings - there's a welcome breath of fresh air.
For starters, Luke Goss' character is an actual criminal. He's not a wrongly accused man fighting for his life, he's not a victim of betrayal out for revenge, he's not a casualty of the system; he's a murderer. A murderer with a conscious, granted, but it is a nice change of pace to have a hero that isn't the squeaky clean, "I don't belong here with these animals!" type. This may seem a small choice, but it's a deliberate one that helps give the film much needed grit in all of the right places.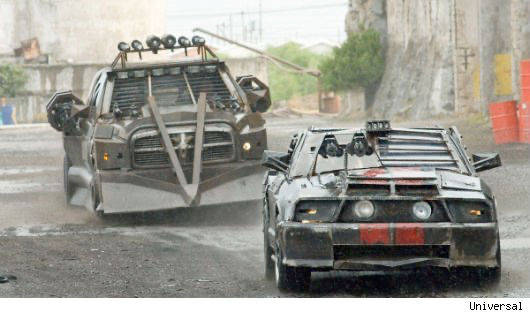 Of course it doesn't hurt that Goss has more charisma and talent than you'd expect from the lead of films of this ilk, but that's not much of a surprise to anyone who has previously taken note of the often overlooked actor in any number of his other straight-to-video films (with his villainous role in 'Hellboy 2' being one of his few prominent theatrical roles). The rest of the new cast (you can count the carryovers from the first film on one hand, though I won't spoil who they are here) are certainly commendable, but all of the supporting roles are threadbare at best despite a few higher profile names - Sean Bean and Ving Rhames being the largest - filling their shoes.
Beyond the simple, but effective background of Goss' Carl Lucas, Giglio's script also tries its best to feature action outside of the races. Some of it is more thrilling than others (the highlight being a unique weapon choice we see in the deadly televised games that paved the way for Death Race), but even the film's duller moments are at least diverse enough to keep it from becoming a base clone of Anderson's film. Straight-to-video be damned, 'Death Race 2' maintains what made the original enjoyable while still striving to stand on its own two feet. If you're expecting anything beyond that, you're likely not the kind of person a film like this is made for in the first place.