The Expendables 3: Where Stallone could / should take the third instalment
Thursday, 14 March 2013
Tom Jolliffe looks at the possibilities for The Expendables 3...
Director: 

There are plenty of potential directors out there. It would be safe to say that Sly should stay in front of the camera. The scale of the third needs to at the very least match the second, and if it was too tough an ask for him to direct that, it will be the case second time around. 

……..

Elsewhere there is Roel Reine. He's shown remarkable style and visual flair in straight to video action films like two Death Race sequels that ended up being better than the original, as well as the only half decent Steven Seagal starrer in the last decade, Pistol Whipped. His gift for elevating a films look and scope beyond its budget is impressive. One thing to say for the first two Expendables films is, they looked if anything less expensive than they cost to make, and not more. Perhaps Reine could make an $80 million movie look considerably more.
----------------------------------------------------------------------------------------------------------------------------------------------------------------------------------------
by: Alejandro Stepenberg - March 3, 2012: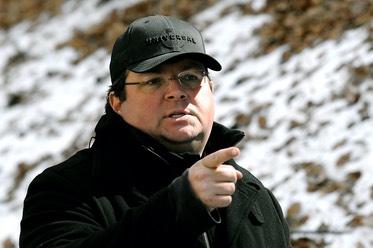 So this is an unexpectedly cool way to begin my morning - Anthony Michael Hall, Danny Trejo, and Mickey Rourke have all signed on to star in DEAD IN TOMBSTONE, an action-adventure flick which starts filming next week.  Written by Shane Kuhn and Brendan Cowles and to be directed by Roel Reine (DEATH RACE 2), the plot synopsis runs something like this:

"Trejo plays Guerrero Hernandez, leader of the Blackwater Gang of outlaws. But after freeing his half-brother, Red (Hall), from prison, Guerrero's plan to loot the mining town of Edendale backfires spectacularly when he is double crossed by Red. After making a deal with the Devil (Rourke), Guerrero comes back from the dead a year later to seek his revenge. The town, which has presciently been renamed Tombstone will soon have its dusty streets running knee-deep in a river of blood."

Anyone else agree that DEAD IN TOMBSTONE sounds f***ing awesome? 
----------------------------------------------------------------------------------------------------------------------------------------------------------------------------------------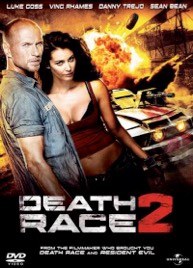 DEATH RACE 2 - REVIEWS
"Death Race 2 Director Roel Reine Raises the Straight-to-DVD Bar" –Tony Trupiano, Movieretriever

"Death Race 2 beats its original hands down because Roel Reiné is a better director than Paul W.S. Anderson, who stickhandled the 2008 Jason Statham original." --ANDREW DOWLER, Now Magazine

"By far the finest Death Race yet and one of the best prequels HANDS DOWN" -J.A. OTTLEY, Movieweb

"…it is director [Roel] Reine's impressive ability to make his assuredly smaller budgeted production look and sound as vulgar as the first film that will draw people in…" –Peter Hall, The Moviefone Blog

"The most impressive aspects to director Roel Reine's film are the stunt work and crisp cinematography, giving fans of the first film another round of brutal races and beatings, only this time the picture appears to embrace its feral nature with a little more spunk." -Brian Orndorf, DVD Talk

"The "A" list cast, a visionary director and the right balance of story and action held my attention and were suspenseful enough to keep your blood pumping." –Tony Trupiano, Movieretriever.com

"Reiné has an eye for unusual shots and a fondness for slow motion and 360-degree pans. He uses them to build impact into thrill scenes and emotional moments." --ANDREW DOWLER, Now Magazine

"'Death Race 2' is precisely what you want it to be: over-the-top action, violence and vehicular mayhem." –Peter Hall, The Moviefone Blog

"…throw away your preconceived notions about movies that go straight to DVD because this is one that was worthy of theatrical release…….. Director Reine clearly has a passion for the arts and his insistence on being a player in the movie may not be evident to the audience but it is to not only the look of the film, but the cast as well………. Death Race 2 shines brighter than I ever though it could and I for one won't be surprised any longer if we start seeing more "A" list actors making straight-to-DVD movies." –Tony Trupiano, Movieretriever

 "Definately worth a rent or even a buy, and kiss that 2008 remake goodbye :)" -J.A. OTTLEY, Movieweb